I'm someone who loves solving puzzles - figuring out the big picture, breaking it down into smaller pieces and putting them all together again. I've had the pleasure and privilege of working and managing talented cross-functional teams from Stockholm to Singapore and now Brisbane.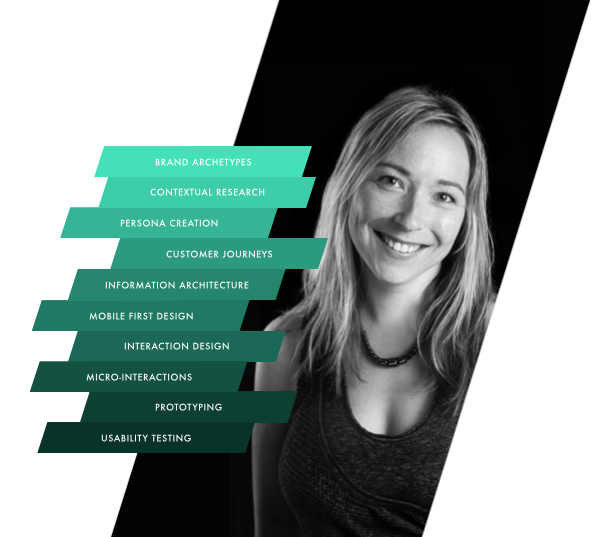 Besides leading teams and creating rich user experiences for consumers, my heart belongs outdoors. I grew up snowboarding and discovered a passion for rock climbing and diving. My most recent challenges are kite surfing and mountain biking now that I live in the tropics.
Angelica is Expedia's senior experience manager in Brisbane and has been working in the field for over 10 years, across Sweden, Singapore and Australia.
With a civil engineering degree in Interaction Design and Technology, Angelica has a unique balance of design, psychology and programming knowledge - all of which comes together well when designing with the customer at heart. 
As a senior manager of Experience Design, Angelica takes great interest in managing and coaching both junior and senior designers as well as partnering with engineering, product, content and strategy to build strong teams. She focuses on using design thinking techniques to understand the business, the brand story as well as the needs of the customers and brings this together in the concepts and experiences her team creates.

Prior to joining Expedia, Angelica worked for the global powerhouse SapientRazorfish (previously SapientNitro) where she lead teams and championed the customer for numerous clients and projects on both global and local scale, big and small. She has always worked closely with other skillsets and even collaborated on new ways for user experience to work. For more details on this please see the article
Kill Wireframes. Fuel Creativity
. 
Previous clients spans pharma, financial services, public service sites, sporting events, automotive and e-commerce solutions as well as mobile- and marketing experiences.

EXPEDIA
| SENIOR MANAGER - USER EXPERIENCE DESIGN
BRISBANE, JANUARY 2018 - PRESENT
Leading the activities shopping experience as well as managing a global team of junior and senior designers. Collaborating with leadership and product on strategies and business opportunities.
SAPIENTRAZORFISH
| MANAGER/ SENIOR MANAGER - USER EXPERIENCE DESIGN
BRISBANE, APRIL 2013 -  DEC 2017
Leading a small cross-functional team of designers, front-end developers and UX designers to rapidly step up the quality of the creative outcome, while also driving productivity enhancements and efficiencies.
Angelica has been one of the core contributors in how SapientRazorfish Brisbane is engaging with their clients and innovating for the future. 
SAPIENTNITRO
| SENIOR INFORMATION ARCHITECT - USER EXPERIENCE DESIGN
SINGAPORE, MARCH 2011 - APRIL 2013
Engaged in full end-to-end projects ranging from e-commerce solutions and complex financial solutions to digital marketing campaigns and mobile applications.
CREUNA
| SENIOR INTERACTION DESIGNER
STOCKHOLM, JANUARY 2010 - MARCH 2011
Developed concepts, interaction design and user research, ensuring strategic integrity throughout, including supporting developers during implementation.
NYX INTERACTIVE
| INTERACTION DESIGNER, MATHEMATICIAN
STOCKHOLM, JUNE 2008 - JANUARY 2010
Responsible for interaction design of the company's casino portfolio as well as games configurations. This included calculating complex combinatorics and running game probability tests and validation bots.
INTERACTIVE INSTITUTE
| INTERACTION DESIGNER - MASTER THESIS
STOCKHOLM, FEBRUARY 2008 - JUNE 2008
My master thesis - "Authoring Tools for Interactive Narratives" was based on a script prototype for the pervasive/augmented reality mobile game Backseat Playground.
2016
BRONZE - HOLLYWOOD A LIST AWARDS
   Marvellous Creations - Australian Crowd Coloured Short Film
2015
BRONZE - BADC AWARDS
   Dreamworld, Full Website
BRONZE - BADC AWARDS
   Explore Tropical North Queensland - Paradise through your lens, Microsite
2012
SHORTLISTED - FACEBOOK MARKETING AWARDS
   Global Handwashing Day 2012, Campaign
2011
WINNER - GREAT WORK AWARDS
   PaddlePop, Full Website
"Out of all the UX Designers working in the same project as I was, I came to enjoy my work with Angelica the most. Not only is she rock-solid at what she does, her attitude and skills go above and beyond what's required of her role, which makes working with her a great experience"
-
Jussi Edlund
| Creative director, frog
INTERACTION DESIGN & TECHNOLOGY
 | CIVIL ENGINEERING DEGREE/MASTER
UMEÅ, SWEDEN.  2003 - 2008
​​​​​​​